Pacific Grove High School


Class Of 1968


Not a member?
JOIN HERE
Find and click on your name.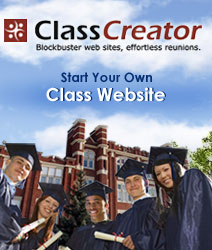 MISSING 68'ERS
Know the email address of a missing 68'er? Click here to contact them!
August reunion in Eugene, Oregon!!
Hi Everyone!
It was great to see the response of so many people to our August Picnic suggestion in Eugene!! Based on the voting, plus many phone calls and messages, the date for the PG Friends Picnic will be Saturday, August 24th. It seems many people will be driving, even caravanning, on Friday. If anyone would like to share a ride or caravan, Linda and I can help coordinate that, depending on where people are coming from. Also, if you have not yet responded as to whether or not you are interested in coming, please send Linda or I a message. Check us out on Facebook, PG Friends Oregon Picnic.
Here are the tentative plans so far:
FRIDAY 8/23

Arrive in Eugene

6pm – Meet at Abby's Pizza, 1970 River Road, Eugene, for anyone interested

SATURDAY 8/24

Picnic!!!11am – 5:30pm

Steve Graves' home, 4135 Victoria Lane, Eugene

Because we are all coming and staying at our own expense, Steve and his lovely wife Janet have graciously said they will provide all food and drinks

SUNDAY 8/25

For all interested in some breakfast, or just coffee and wake-up laughs, before leaving town, we will meet about 8:30am at the Original Pancake House at 782 East Broadway, Eugene
Regarding accommodations:
1)Best Western New Oregon Motel 1-888-668-2576
655 Franklin Blvd., Eugene, 97403
About $125.00 per night https://www.bestwestern.com/
2) Timbers Motel 1-800-643-1467
1015 Pearl st. Eugene, OR, 97401
About $109.00 per night http://www.timbersmotel.net/
The dates are Aug.23 and Aug 24 leaving Aug 25
In the next few months, perhaps April/May timeframe, we will contact everyone again to get a semi-final count of people coming and who will need accommodations. So please keep an eye out for that.
If you know of anyone who would like to come, please let us know. We can add them to our list as well as invite them to the Picnic page on Facebook.
Thanks again for all your good energy and excitement! We look forward to seeing you in August!!
Linda (Herd) Colvin: llcmhc@icloud.com
Tina (Ruble) Heacox: mossybank2@aol.com
Y Barry Bettencourt
Y Betsy Rosenthal
Y Candy Hoyt
Maybe Cheryl DeLeon
Y Cheryl Rosskilley Revers
Y Cindy Kausin (Linda's Sister)
Y David Bell
Y Donna Jamark Cardinale
N George St. Clair
Y Ilene Cashman
N Irene Elizabeth
Maybe Jean Smither Osio
Y Jeff Andrews
Y Jim Montgomery
N Jim Russo
Y Joanie Hyler
Y Joel and Eleanor Townsend
Y John and Patty Griffin
Maybe John Fader
Y Karen Frances
N Kathleen Busico
N Kathy Richerson
N Kay Minowski
Y Larry Calhoun
Y Linda & Malcom Colvin
Y Lupe Villapondo Dosda
Y Margaret Walter Eilrich
Y Mona Everman Sarrensen
Y Patty & John Marsh
N Renata Stein Wilson
Maybe Rich Ellings
Y Rosanna Miller McCoy Shaw
N Roz Spafford
Y Sandra Humes
N Stacey Souders Golding
Y Steve Graves
N Steve Johnson
Y Sue Cronk Iverson
Y Susan Heyl Tyler
Y Tina Heacox
N Tom Sherburne
Maybe Walt & Peteranne Ushakoff
If you are thinking you want a ball cap you better send the $17. They are selling........I will bring to the August reunion what I have left.
Make check out to Joanie Hyler Class of 1968 for $17.00
($10 covers the hat $7 the postage)
Send your check to 1107 David Ave, PG, CA 93950-5407
After these are gone, there will be no more.

The color oif the hats are black, black the picture doesn't show that.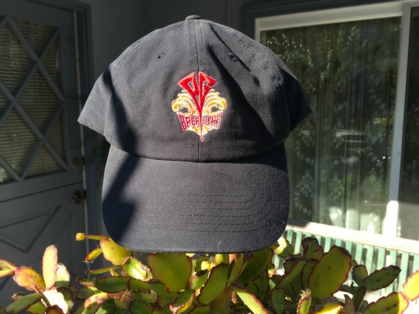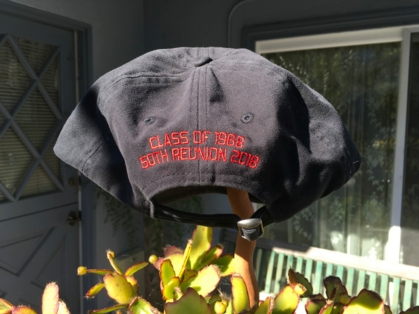 Still want to send in your bio?
There is time.
There is still time to send in your bio's. I'm probably not going to get to producing a book until mid year 2019. So, please send one in. Even if you did not come to the reunion, we would love to hear from you and what you have been up too.